This wasn't the case when former owners installed a kitchen in the late 1980s. The benches were not strategically placed, and most of the MDF joinery was used to infill between the structural supports, an open fireplace and windows inserted from the former design. "We both enjoy cooking, but there was little bench space, insufficient storage and a series of nooks given over to everything from appliances through to my significant collection of cookbooks," homeowner Hilary says. Her husband Adam was also frustrated that there was not a dedicated place for him to make coffee from his prized Rocket coffee machine.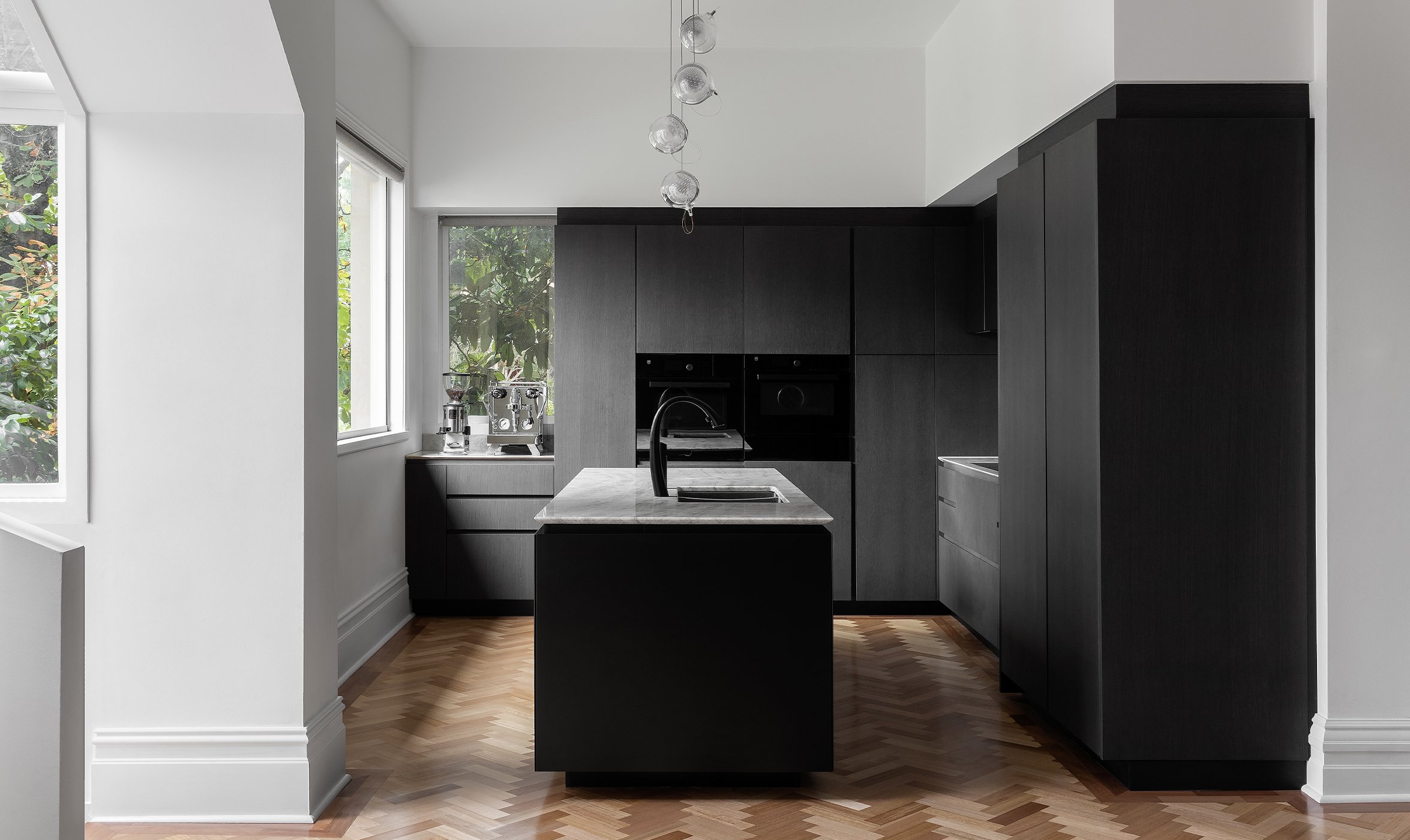 The couple worked closely with Poliform's design consultant Nick Little, who understood what was required for their new kitchen and the challenges, including its relatively narrow width. "I was conscious of the bulkheads and the many structural columns and was keen to conceal these while ensuring there was literally a space for everything on their wish list," Nick says, who reflects on the kitchen after it's been completed. "We didn't leave anything out," he adds.

Featuring smoked joinery, quartzite benches with shark nose edges and splashback, together with parquetry timber floors (the orange varnish was removed for a natural finish), the Poliform Artex kitchen includes numerous appliances while still appearing streamlined: V–ZUG appliances, including black glass-fronted ovens (one for steaming), a dedicated coffee zone, flush hotplates along with a concealed freezer and a fridge. What was previously an awkward corner in the kitchen now has a Le Mans pantry, complete with circular stainless-steel shelves inspired by the circular racing track of the car race from which it takes its name. The kitchen has also been carefully designed to accommodate a couple with three children. So, there's a space under the central island bench dedicated to making smoothies and housing cereal.

There's also generous storage for Hillary's substantial collection of cookbooks in the island bench cupboards. The drawers have also been beautifully detailed, with many revealing walnut veneer trays for cutlery. "Everything now has its place," Adam says, opening up the drawers below his prized Rocket machine to reveal dedicated drawers for coffee, tea and other utensils.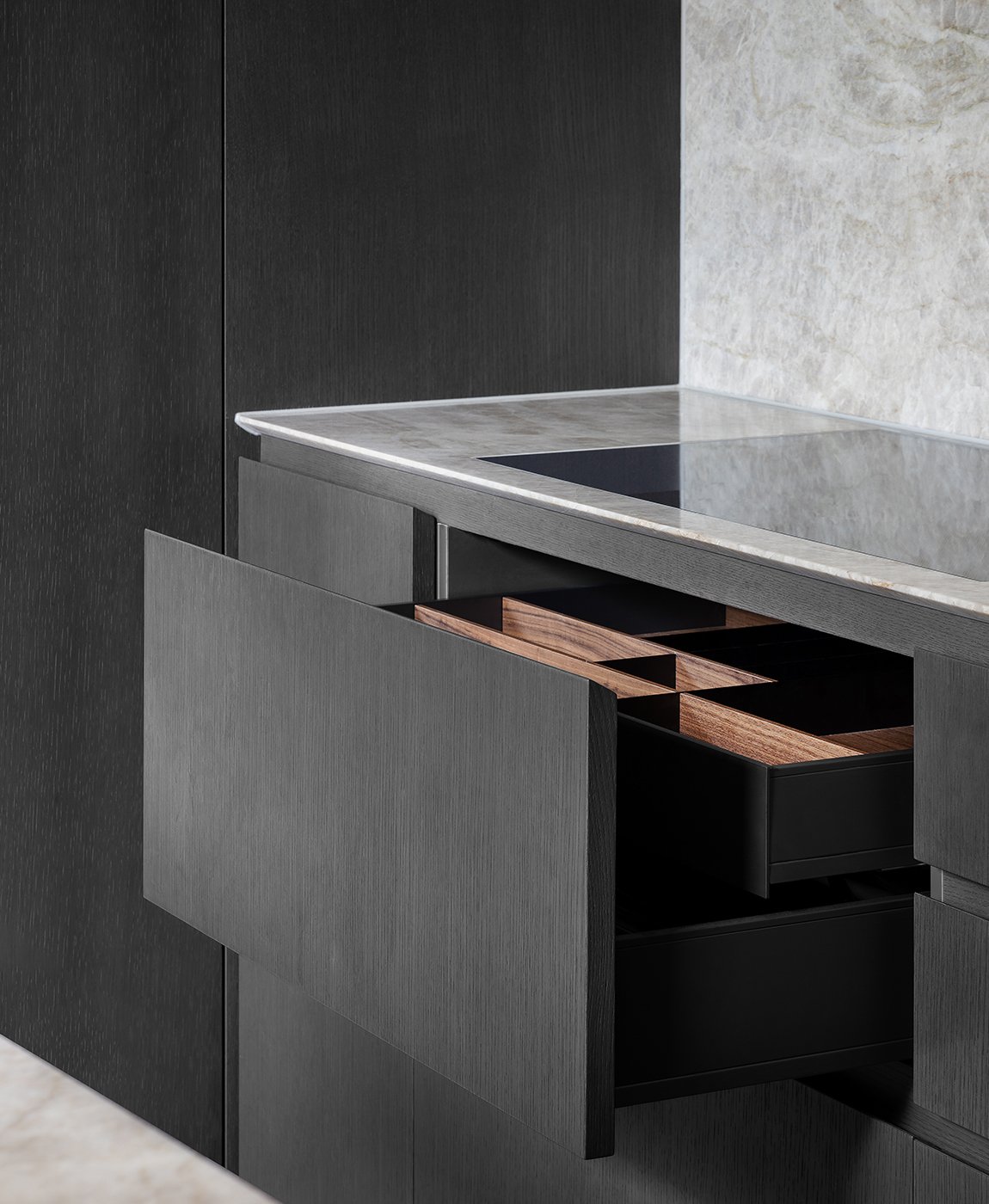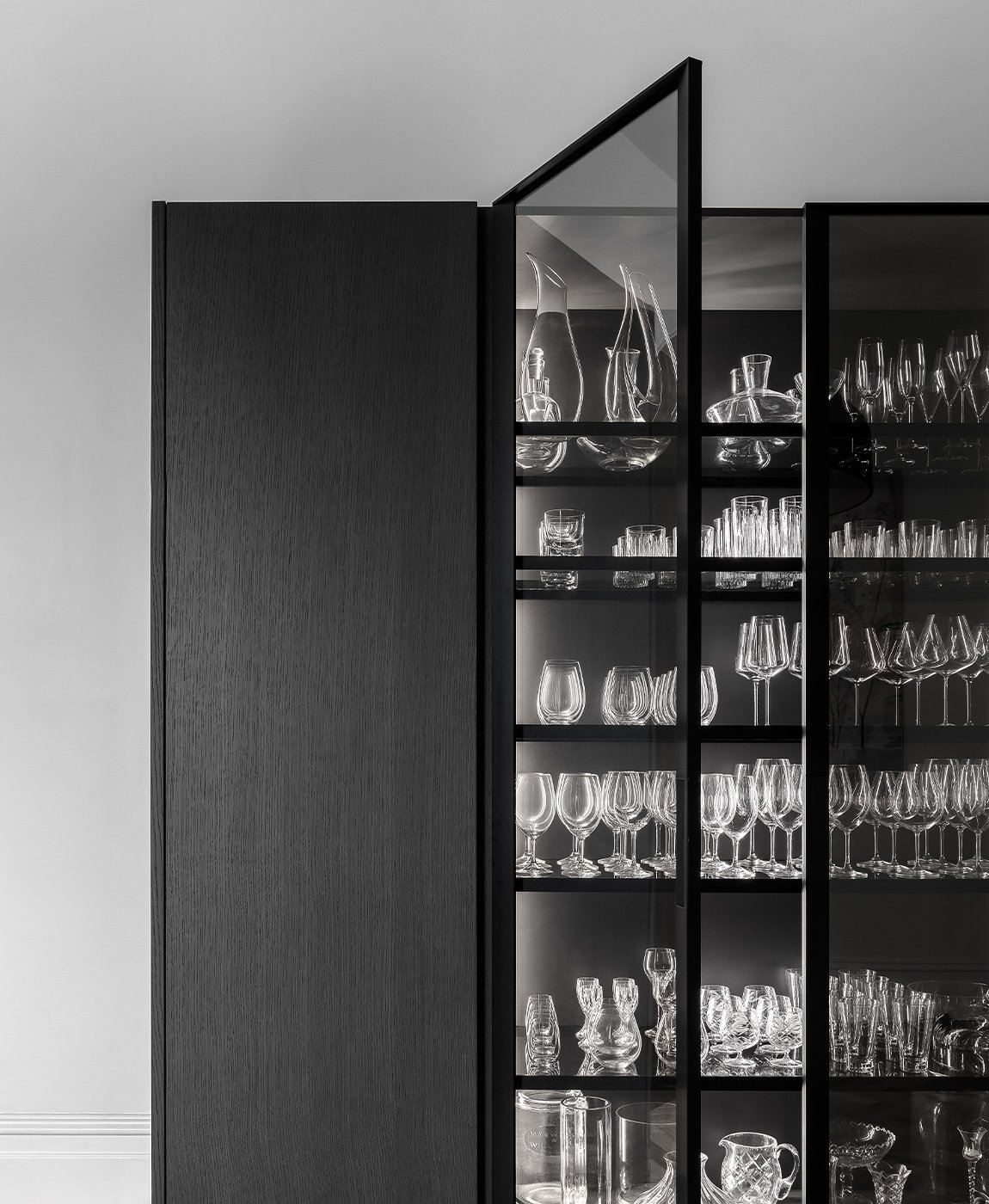 From the outset, Nick was mindful of how the kitchen would be used, not only by Hilary and Adam but also by the children. For example, a machine for making smoothies can be easily retrieved from a cupboard in the island bench and connected to a concealed switch below (the couple didn't want to see exposed sockets). Likewise, rather than finding a space for everything in the kitchen, much of the storage, such as the extensive collection of glasses and vases, can be found in the armoire, also designed by Poliform.

The cupboards framing the central glass doors and display shelves are also space-efficient, with dedicated shelves for crockery and placemats and generous storage for the kitchen and dining areas. "This allows the children to easily set the dining table rather than having to open cupboards in the kitchen, problematic when we're in the middle of cooking," Hilary says.
And while the kitchen now works efficiently, it didn't have to come at the expense of major structural changes or even changing windows.
"We both enjoy seeing the dappled afternoon light and the leafy aspect," Hilary adds, pointing out the established water chestnut outside their kitchen window.
The Kitchen story was first published on Est Living, by Stephen Crafti / Photography by Timothy Kaye