Listone Giordano is synonymous worldwide with excellence in luxury wood floors, wall and ceiling panels for residential and commercial interiors. The company is guided by a single goal: perfection. Made for those who love quality, their story of Italian craftsmanship has contributed to the culture of wood as an integrated design element of the interior. At Listone Giordano, the selection of wood is on par with a form of art.

How To Choose Wood Flooring
From the design of parquet to the finish of oak, wood influences the feel of an interior. The Listone Giordano Wood Flooring Guide helps to answer your questions, plus a few others you didn't even know you had.
Read the comprehensive guide here or shortcut to some of our most frequently asked questions here.

For any other queries, please get in touch.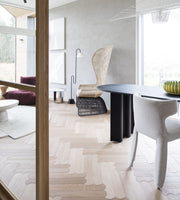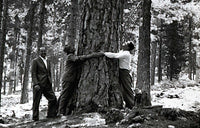 A family passion, a long business history
The roots of the Listone Giordano brand go deep into tradition. The Margaritelli family has, over three centuries and four generations, been intimately involved with an extraordinary material: wood.
Developing the Natural Genius Collection with international designers including Michele De Lucchi and Patricia Urquiola, Listone Giordano looked for a simple answer to a complex question. How can a wooden floor remain faithful to its ancient tradition, yet exude an authentically contemporary spirit?
From residential projects to hospitality, public spaces and retail stores, Listone Giordano has experience refining the quality and feeling of wood. From homes, museums, art galleries, corporate offices and restaurants, their myriad projects and breadth of experience involves flooring and vertical wood cladding at the most complex technical and aesthetic level.